When the local municipality of Tshwane required 3m x 3m custom-made jacking box culverts for a service delivery project at Iscor Heights, in Pretoria West, the only company in South Africa who was able to design and manufacture culverts to such large specifications was Rocla. The culverts were manufactured with an in-the-wall joint that can be sealed with a rubber ring if required.
The project, which required 90 large sized culverts to create two 50m long under-road tunnels 6m below the road surface in order to provide new water services to the area, commenced in January 2020.
Brendan van Vuuren, Sales Consultant for Rocla said "We have been involved with the Iscor Heights project since the inception of the tender, and we worked closely with Esor Ltd, one of South Africa's benchmark and civil engineering groups, who was the project's sub-contractor, in order to ensure that their specifications for these very large jacking culverts were met. The largest jacking pipe Rocla had manufactured in the past was a 3000mm x 2500mm, which was too small for the project. After all of the specifications were finalised, the designing process began, which included manufacturing the mould for this specially sized culvert".
Esor Ltd, Director, Len Nel commented "We have worked with Rocla on various projects over the years, so we knew that these large jacking culverts would have to be specifically designed and manufactured, and that Rocla was the only company who had that kind of creative capability".
"After many meetings to discuss the design and verify the technical requirements of the jacking culverts to ensure that the final product would meet the loading requirements, the final culvert weighed in at an excess of 10 tons per product – a major design and manufacturing coup for Rocla" Nel added.
The timeframe from approved product specification and design to mould completion was only 16 weeks for the 90 culverts.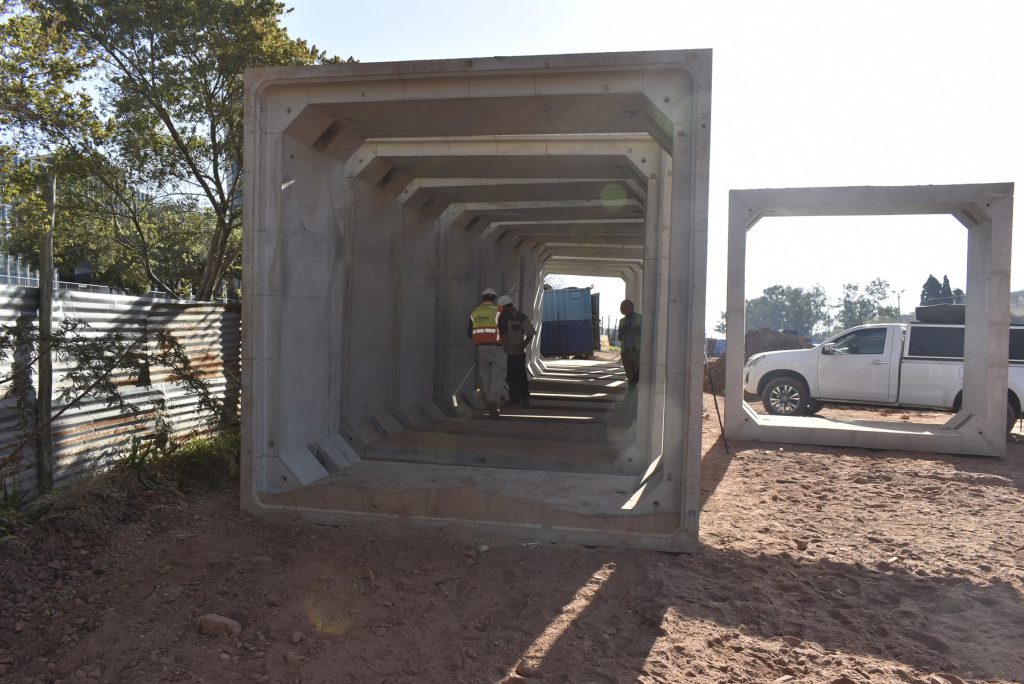 Due to the enormous size of the culverts, the delivery to site required an abnormal load permit and they were offloaded into the pit at site with a Side boom Crane.
"Rocla is extremely proud to have been involved with this unique project. It tested our design team's expertise and our manufacturing processes to the limit, but showed that no project is too big for Rocla to collaborate on. It will certainly become one of Rocla's historical milestones" concluded van Vuuren.
Rocla manufactures various culvert designs and culvert base slabs, along with stormwater pipes and other infrastructure products such as HDPE and pressure lined sewage pipes, concrete poles, manholes, bus shelters, sanitation units and concrete cabins.